STAR WARS EPISODIO II
ESCANAS PARCIALMENTE ELIMINADAS
Articulo creado por Runciter / Supervisión: Lady Mon / Maquetación: Coronel Kurtz
Prohibida la reproducción total o parcial sin el consentimiento de los autores.

[ Menú Artículos ]
INTRODUCCIÓN Y LISTADO
En El Ataque de los Clones hay muchas escenas que han sufrido una reducción considerable en los diálogos originales que aparecían en el guión. En este artículo recogemos los más curiosos y los más significativas, esto es, aquellos que dan más profundidad tanto a los personajes como a la historia.
Para su mejor seguimiento las escenas han sido transcritas usando el siguiente estilo de maquetación:
En color morado hemos puesto el dialogo suprimido (en ingles)
En color negro hemos puesto el diálogo original en Ingles.
En color rojo hemos puesto el diálogo traducido al español.
El listado de escenas parcialmente eliminadas es:
Escena 16 - Int. Apartamenteo Amidala
| | |
| --- | --- |
| | |
Interior apartamento de Amidala – sala principal, noche
Corresponde a una serie de escenas en el apartamento de Amidala. Ella está durmiendo y Obi-Wan junto a su padawan hacen guardia. La escena arranca con Anakin inmóvil meditando hasta que algo perturba su trance, oye pasos acercarse, abre los ojos y coge el sable láser. Se abre la puerta y aparece su maestro Obi-Wan. La pose de Anakin se puede ver en uno de los Selects de la web oficial (ver foto).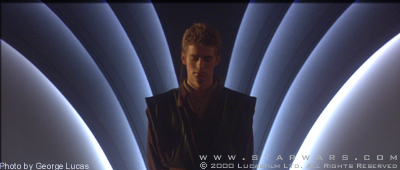 Anakin is standing in the living room. He is in a meditative state. It is quiet. We hear DISTANT FOOTSTEPS in the corridor outside the apartment. Suddenly ANAKIN'S eyes pop open. His eyes dart around the room. He reaches for his lightsaber, then smiles and puts it back in his belt. The door to the apartment slides open, and OBI-WAN enters. [Anakin está en el salón. Está meditando. Sin moverse. Oye pasos a los lejos en el pasillo fuera del apartamento. De repente abre los ojos. Sus ojos se lanzan por toda la habitación. Alcanza su sable láser, entonces sonríe y lo vuelve a colocar en su cinturón. La puerta del apartamento se abre y Obi-Wan entra]
OBI-WAN - Captain Typho has more than enough men downstairs. No assassin will try that way. Any activity up here?. [El Capitan Typho tiene hombres de sobra abajo. Ningún asesino lo intentará de esta manera. ¿Alguna actividad aquí arriba?]
ANAKIN - Quiet as a tomb. I don't like just waiting here for something to happen to her. [Todo está calmado. No me gusta estar esperando a que algo la ocurra]
Obi-Wan checks a palm-sized view scanner he has pulled out of his utility belt. It shows a shot of ARTOO by the door, but no sign of PADME on the bed. [Obi-Wan consulta el escaner que lleva en el cinturón. Muestra a R2 en la puerta, pero ni rastro de Padmé en su cama]
OBI-WAN - What's going on? [¿Que es lo que pasa?]
Anakin shrugs. [Anakin se encoge de hombros]
ANAKIN - She covered that camera. I don't think she liked me watching her. [Ha tapado las cámaras. No creo que le guste que la este mirando]
OBI-WAN - What is she thinking? [¿Qué esta pensando?]
ANAKIN - She programmed Artoo to warn us if there's an intruder. [Ha programado a R2 para que nos avise si hay algún intruso]
Escena 38 - Int. Apartamento Amidala
| | |
| --- | --- |
| | |
Interior apartamento de Amidala - día
Esta escena sí que contiene diálogos muy interesantes entre Padmé y Anakin que han sido eliminados, pudiéndose ver mas ironía entre ambos personajes. Padmé está haciendo las maletas en su dormitorio del apartamento de Coruscant, supone el primer cruce de miradas intenso antes de su partida para Naboo.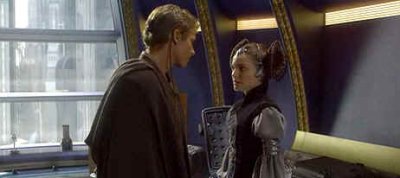 PADME - I'm talking an extended leave of absence. It will be your responsibility to take my place in the Senate. Representative Binks, I know I can Count on you. [Tengo que ausentarme durante algún tiempo. Será tu responsabilidad la de ocupar mi lugar en el Senado. Representante Binks, sé que puedo contar contigo]
JAR JAR - Messa honored to be taken on dissa heavy burden (pompously) Messa accepts this with muy muy humility and da… [Misa honrado de formar parte. Misa acepta con mucha mucha humildad y…]
PADME - Jar Jar. I don´t wish to hold you up. I´m sure you have a great deal to do. [Jar Jar. No deseo entretenerte. Estoy segura de que tienes grandes cosas que hacer]
JAR JAR - Of course, M´Lady. [Por supuesto, M'Lady]
Jar Jar bows and goes out. As he passes ANAKIN, he flashes a dazzling smile... PADME is in a very bad mood. [Jar Jar se marcha. Se cruza con Anakin y le lanza una sonrisa… Padmé está de muy mal humor]
PADME - I do not like this idea of hiding. [No me gusta la idea de esconderme]
ANAKIN - Don't worry. Now that the Council has ordered an investigation, it won't take Master Obi-Wan long to find that bounty hunter. [No te preocupes. Ahora que el Consejo ha ordenado una investigación, el Maestro Obi-Wan no tardará en encontrar a ese cazarecompensas]
PADME - (frustrated) I haven't worked for a year to defeat the "Military Creation Act" not to be here when its fate is decided!. [(frustrada) No he estado trabajado durante un año en contra del Acta de Creación Militar y no estar aquí cuando se tenga que votar!]
ANAKIN - Sometimes we have to let go of our pride and do what is requested of us. [A veces debemos dejar a un lado el orgullo y hacer lo que se nos aconseja]
PADME - Pride?!? Annie, you're young, and you don't have a very firm grip on politics. I suggest you reserve your opinions for some other time. [¿Orgullo?. Annie, tú eres joven y no tienes un dominio muy firme en la política. Te sugiero que te guardes tus opiniones para otro momento]
ANAKIN - Sorry, M'lady. I was only trying to... [Lo siento, M'Lady. Solo intentaba…]
PADME - Annie! No! [Annie!. No!]
ANAKIN - Please don't call me that. [Por favor no me llames así]
PADME - What? [¿Qué?]
ANAKIN - Annie... [Annie…]
PADME - I've always called you that... it is your name, isn't it? [Siempre te he llamado así… es tu nombre, ¿no es verdad?]
ANAKIN - It's Anakin. When you say Annie it's like I'm still a little boy... and I'm not. [Es Anakin. Cuando me llamas Annie es como si todavía fuera un niño pequeño… y no lo soy]
PADME - I'm sorry, Anakin. It's impossible to deny you've...(looks him over) ...that you've grown up. [Lo siento, Anakin. Es imposible negar que has…(mirándole)…que has madurado]
Padme smiles at Anakin. He becomes a little shy. [Padmé sonríe a Anakin. El se vuelve algo tímido]
ANAKIN - Master Obi-Wan manages not to see it... [El Maestro Obi-Wan se niega a verlo…]
PADME - Mentors have a way of seeing more of our faults than we would like. It's the only way we grow. [Los Mentores tienden a fijarse en nuestras faltas mas de lo que nos gustaría. Es la única forma de madurar]
ANAKIN - Don't get me wrong... Obi-Wan is a great mentor. As wise as Master Yoda and as powerful as Master Windu. I am truly thankful to be his apprentice. Only... although I'm a Padawan learner, in some ways... a lot of ways... I'm ahead of him. I'm ready for the trials. I know I am! He knows it too. But he feels I'm too unpredictable... Other Jedi my age have gone through the trials and made it...I know I started my training late... but he won't let me move on. [No me interpretes mal… Obi-Wan es un gran mentor. Tan sabio como el Maestro Yoda y tan poderoso como el Maestro Windu. Me siento honrado de ser su discípulo. Solo que… soy aprendiz padawan, en algunas… en muchas cosas le sobrepaso. Estoy listo para afrontar las pruebas. ¡Sé que lo estoy!. Él lo sabe también. Pero cree que soy demasiado imprevisible… Otros Jedi de mi edad han ido a las pruebas y las pasaron… lo sé, empecé mi entrenamiento tarde… pero él no me deja seguir adelante]
PADME - That must be frustrating. [Debe de ser frustrante]
ANAKIN - It's worse... he's overly critical. He never listens! He just doesn't understand! It's not fair! [Es peor… es demasiado crítico, ¡nunca escucha!. ¡Simplemente no entiende!. ¡No es justo!]
Padme cannot suppress a laugh. She shakes her head. [Padmé no puede evitar una sonrisa. Mueve la cabeza]
PADME - I'm sorry... You sounded exactly like that little boy I once knew, when he didn't get his way. [Lo lamento… Eres exactamente como aquel pequeño niño que una vez conocí, cuando no encontró su camino]
ANAKIN - I'm not whining! I'm not. [¡no me estoy quejando!, no lo hago]
Padme just smiles at him. DORME laughs in the background. [Padmé le sonríe. Dormé se ríe de él al fondo]
PADME - I didn't say it to hurt you. [No lo dije para hacerte daño]
ANAKIN - I know... [lo sé…]
There is a brief silence. PADME comes over to ANAKIN. [Hay un corto silencio. Padmé se acerca a Anakin]
PADME - Anakin... [Anakin…]
They look into each other's eyes for the first time. [Se miran a los ojos por primera vez]
PADME - (continuing) Don't try to grow up too fast. [(continuando) No intentes madurar demasiado rápido]
ANAKIN - I am grown up. You said it yourself. [He madurado. Tú misma lo has dicho]
Aankin looks deep into PADME'S eyes. [Anakin mira profundamente a los ojos de Padmé]
PADME - Please don't look at me like that. [Por favor no me mires así]
ANAKIN - Why not? [¿Por qué no?]
PADME - Because I can see what you're thinking. [Porque sé lo que estas pensando]
ANAKIN - (laughing) Ahh... so, you have Jedi powers too? [(riendo) Ah… así que, ¿tú también tienes poderes Jedi?]
Dorme is watching with concern. [Dormé los vigila con atención]
PADME - It makes me feel uncomfortable. [Me hace sentir incomoda]
ANAKIN - Sorry, M'lady. [Lo siento, M'lady]
Escena 38 - Int. Templo Jedi
| | |
| --- | --- |
| | |
Interior Templo Jedi – librería de archivos
Esta sí que es una escena muy importante ya que los diálogos suprimidos explican los orígenes del Conde Dooku y su salida de la orden Jedi, las causas por las que lo dejó y la gran estima que tenía en la orden, cuyas habilidades con el sable láser le hacían ser un poderoso Jedi.
Todo esto lo explica el personaje de Jocasta Nu, la bibliotecaria mientras ella y Obi-Wan contemplan un busto de Dooku. La famosa escena de los veinte perdidos.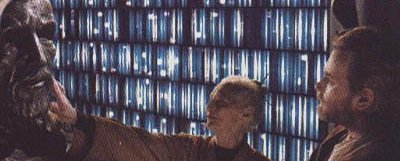 JOCASTA NU -Did you call for assistance? [¿Necesita ayuda?]
OBI-WAN -distracted in thought) Yes... yes, I did... [(distraído pensando) Sí... Sí]
JOCASTA NU - He has a powerful face, doesn't he? He was one of the most brilliant Jedi I have had the privilege of knowing. [Él tiene un rostro poderoso ¿no es así?. Él fue uno de los Jedi mas brillantes que he tenido el privilegio de conocer]
OBI-WAN - I never understood why he quit. Only twenty Jedi have ever left the Order. [Nunca entendí porque se fue. Solo 20 Jedi han abandonado la Orden]
JOCASTA NU - (sighs) The Lost Twenty... and Count Dooku was the most recent and the most painful. No one likes to talk about it. His leaving was a great loss to the Order. [(suspira) Los 20 perdidos…y el Conde Dooku fue el mas reciente y el mas doloroso. A nadie le gusta hablar de ello. Su salida fue una gran perdida para la Orden]
OBI-WAN - What happened? [¿Que ocurrió?]
JOCASTA NU - Well, count Dooku was always a bit out of step with the decisions of the Council... much like your old Master, Qui-Gon Jinn. [Bueno, el Conde Dooku no compartía algunas decisiones del Consejo… al igual que su antiguo Maestro, Qui-Gon Jinn]
OBI-WAN - (surprised) Really? [(sorprendido) ¿En serio?]
JOCASTA NU - Oh, yes. They were alike in many ways. Very individual thinkers...idealists... [Oh, si. Tuvieron muchos puntos en común. Pensamientos muy individuales… idealistas]
Jocasta Nu stares at the bust [Jocasta Nu mira fijamente el busto]
JOCASTA NU - (continuing) He was always striving to become a more powerful Jedi. He wanted to be the best. With a lightsaber, in the old style of fencing, he had no match. His knowledge of the Force was... unique. In the end, I think he left because he lost faith in the Republic. He believed that politics were corrupt, and he felt the Jedi betrayed themselves by serving the politicians. He always had very high expectations of government. He disappeared for nine or ten years, then he just showed up recently as the head of the separatist movement. [(continuando) Siempre estaba deseando convertirse en el Jedi mas poderoso. Quería ser el mejor. Con la espada láser, en el antiguo estilo de esgrima, no tenía rival. Su conocimiento sobre la Fuerza era…único. Al final se marchó porque perdió la fe en la República. Creía que los políticos estaban corruptos y sentía que los Jedi se traicionaban a sí mismos por servir a los políticos. Siempre tubo grandes expectativas de gobierno. Desapareció hace 9 o 10 años, luego reapareció recientemente al mando del movimiento separatista]
OBI-WAN - It´s very interesting... I'm still not sure I completely understand. [Muy interesante… todavía no estoy seguro de entenderlo completamente]
JOCASTA NU - Well, I'm sure you didn't call me over here for a history lesson. Are you having a problem, Master Kenobi? [Bueno, Seguro que no me llamaste para venir a contarte una lección de historia. ¿Tiene algún problema Maestro Kenobi?]
OBI-WAN -Yes, I'm trying to find a planet system called Kamino. It doesn't seem to show up on any of the archive charts. [Sí, estoy intentando encontrar un sistema planetario llamado Kamino. Parece que no está en ninguna de las listas de los archivos]
JOCASTA NU -Kamino? It's not a system I'm familiar with... Let me see... [¿Kamino?. No es un sistema que me resulte familiar… déjame ver…]
Jocasta Nu leans over OBI-WAN'S shoulder, looking at the screen. [Jocasta Nu se inclina sobre el hombro de Obi-Wan, mirando a la pantalla]
JOCASTA NU -(continuing) Are you sure you have the right co-ordinates? [(continuando) ¿Está seguro de que tiene las coordenadas correctas?]
OBI-WAN -(nodding) According to my information, it should be in this quadrant somewhere... just south of the Rishi Maze. [(inclinándose) De acuerdo con mi información, debería de estar en algún lugar de este cuadrante… justo al sur del Laberinto Rishi]
Jocasta Nu taps the keyboard and frowns. [Jocasta Nu teclea y frunce el ceño]
JOCASTA NU - No co-ordinates? It sounds like the sort of directions you'd get from a street tout... some old miner or Furbog trader. [¿No hay coordenadas?. Suena como ese tipo de direcciones que conseguirías en la calle… de algún antiguo minero o de algún comerciante de Furbog]
OBI-WAN - All three actually. [Realmente de los tres]
JOCASTA NU - Are you sure it exists? [¿Estás seguro de que existe?]
OBI-WAN - Absolutely. [Completamente]
JOCASTA NU - Let me do a gravitational scan. [Déjame hacer un escáner gravitacional]
Obi-Wan and Jocasta Nu study the star map hologram. [Obi-Wan y Jocasta Nu estudian el holograma de mapa de estrellas]
JOCASTA NU - There are some inconsistencies here. Maybe the planet you're seeking was destroyed. [Hay algún tipo de error aquí. Tal vez el planeta que estás buscando fue destruido]
OBI-WAN - Wouldn't that be on record? [¿No estaría en los archivos?]
JOCASTA NU - It ought to be. Unless it was very recent. (Shakes her head) I hate to say it, but it looks like the system you're searching for doesn't exist. [Tendría que estar. A menos que fuera muy reciente. (Mueve la cabeza) Siento decirlo, pero parece que el sistema que está buscando no existe]
OBI-WAN -That's impossible... perhaps the archives are incomplete. [Eso es imposible… quizás los archivos están incompletos]
JOCASTA NU - The archives are comprehensive and totally secure, my young Jedi. One thing you may be absolutely sure of if an item does not appear in our records, it does not exist! [Los archivos son comprensivos y totalmente seguros, mi joven Jedi. Puedes tener la absoluta seguridad de que si no aparece en nuestros archivos, ¡es que no existe!]
Escena 48 - Int. Carguero refugiados
| | |
| --- | --- |
| | |
Escena 049 – Interior Carguero Refugiados
Se trata de una escena que ha sufrido también algunos cortes en los diálogos. Hay ciertas frases que si se miran en conjunto con escenas posteriores sí que resultan repetitivas, pero otras muchas añaden algo interesante, como que el carguero viaje a la velocidad luz, que Anakin tenga su primera pesadilla y que Padmé le despierte de ella uniéndose a la posterior conversación, además de comprobar la pasión que tiene Anakin por Naboo y la conexión con la siguiente escena en Theed (Plaza de España).
A great gloomy hold is crowded with EMIGRANTS and their belongings. To one side ARTOO is coming to the head of a food line holding two bowls. With one of his little claw-arms, he grabs a chunk of something that looks like bread. ARTOO slips tube into a tub of mush and sucks up a large quantity. A SERVER sees him. . [Una gran sala abarrotada de refugiados y sus pertenencias. A un lado R2 está llegando a la cabeza de la línea de comida llevando dos tazones. En uno de sus brazos-pinza lleva algo que parece pan. R2 desliza el tazón sobre el baño de gachas de maíz y extrae una buena cantidad. El cocinero le ve]
SERVER - (continuing) Hey! No Droids! [(continuando) ¡Eh! ¡Droides no!]
Artoo takes one last big suck and heads away from the food line. The SERVER shouts after him angrily. The little droid moves past groups of eating or sleeping EMIGRANTS and comes to ANAKIN and PADME´s table where ANAKIN is sound asleep. The young Jedi seems to be having a nightmare. He is very restless. [R2 extrae una última muestra de comida y se marcha. El cocinero le grita enfadado. El pequeño droide se mueve por una zona en la que se ve a refugiados comiendo o durmiendo y llega a la mesa de Anakin y Padmé donde Anakin parece estar dormido. El joven Jedi parece que tiene una pesadilla. Esta muy inquieto]
ANAKIN - No, no, Mom, no... [No, no, Mama, no…]
He is sweating. PADME leans over resting her hand on his arm. He wakes up with a start, then realises where he is. PADME simply looks at him. He stares back, somewhat confused. [Está hablando en sueños. Padmé coloca la mano sobre su brazo. Anakin se despierta y se da cuenta de donde está. Padmé le mira. Él se gira algo confundido]
ANAKIN - (continuing) What?. [¿Qué?]
PADME - You seemed to be having a nightmare. [Parecía que estabas teniendo una pesadilla]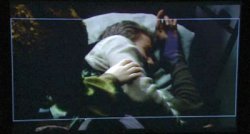 &nbsp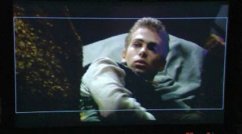 AnakinN looks at PADME a little more closely, trying to see if he has revealed any of his secrets. She hands him a bowl of mush and bread. [Anakin mira a Padmé un poco mas de cerca, intentando ver si le ha revelado alguno de sus secretos. Ella le pone un tazón con gachas de maíz y pan]
PADME - (continuing) Are you hungry? [(continuando) ¿Tienes hambre?]
ANAKIN - Yeah. [Si]
Padme takes the food from ARTOO and sets it on a make-shift table. Anakin rises and take a seat as she places a bowl in front of him. [Padmé coge la comida de R2 y la pone en una mesa plegable. Anakin se levanta y toma asiento mientras ella le pone un tazón de comida delante]
ANAKIN - Thanks. [Gracias]
PADME - We went to lightspeed a while ago. [Hace un rato que salimos de la velocidad luz]
Anakin looks into PADME'S eyes. [Anakin la mira a los ojos]
ANAKIN - I look forward to seeing Naboo again. I've thought about it every day since I left. It's by far the most beautiful place I've ever seen... [Estoy ansioso por ver Naboo de nuevo. He pensado en él desde el día en que lo dejé. Es con mucha diferencia el planeta mas hermoso que he visto jamás]
Padme is a little unnerved by his intense stare. [Padmé está un poco nerviosa ante el apasionado estado de Anakin]
PADME - It may not be as you remember it. Time changes your perception. [Puede que no sea como lo recuerdes. El tiempo cambia la percepción]
ANAKIN - Sometimes it does… Sometimes for the better. [A veces lo hace… pero a veces a mejor]
PADME - It must be difficult having sworn your life to the Jedi... not being able to visit the places you like... or do the things you like... [Debe de ser difícil el jurar tu vida a los Jedi…no poder visitar los lugares que quieres…o hacer las cosas que te gustan…]
ANAKIN - Or be with the people I love. [O estar con los seres queridos]
PADME - Are you allowed to love? I thought it was forbidden for a Jedi. [¿Se te permite amar?. Creí que lo teníais prohibido]
ANAKIN - Attachment is forbidden. Possession is forbidden. Compassion, which I would define as unconditional love, is central to a Jedi's life, so you might say we're encouraged to love. [El apego esta prohibido. La posesión esta prohibida. La compasión, que la definiría como un amor incondicional, es esencial para la vida de un Jedi, así que yo diría que se nos alienta a amar]
PADME - You have changed so much. [Cuanto has cambiado]
ANAKIN - You haven't changed a bit. You're exactly the way I remember you in my dreams. I doubt if Naboo has changed much either. [Tú no has cambiado. Eres exactamente igual que la persona que recuerdo en mis sueños. Dudo que Naboo haya cambiado demasiado]
PADME - It hasn't... [No lo ha hecho]
There is an awkward moment. [Es un momento comprometido]
PADME - (changing the subject) You were dreaming about your mother earlier, weren't you?. [(Cambiando de asunto) ¿Estabas soñando con tu madre antes, no es así?]
ANAKIN - Yes... I left Tatooine so long ago, my memory of her is fading. I don't want to lose it. Recently I've been seeing her in my dreams... vivid dreams... scary dreams. I worry about her. [Sí… hace mucho tiempo que dejé Tatooine, mis recuerdos de ella son difusos. No quiero perderla. Recientemente la estoy viendo en mis sueños… sueños intensos… aterradores. Estoy preocupado por ella]
Padme gives ANAKIN a sympathetic look. [Padmé lanza una mirada de comprensión a Anakin]
Escena 53 - Ext. Naboo gran plaza
| | |
| --- | --- |
| | |
Exterior Palacio de Naboo – gran plaza
Otra escena que resulta bastante importante en lo que a diálogos se refiere, en este caso entre Padmé y Anakin nada mas aterrizar en La Plaza de España sevillana.
Aquí la senadora le habla de su mundo, pero lo verdaderamente importante es que le cuenta cosas que ha estado haciendo durante estos 10 años, cosas personales sobre su vida. Ella le cuenta detalles de su familia, sobre todo de sus sobrinas pero ha sufrido la misma suerte que las escenas de la familia de Padmé.

ANAKIN - If I grew up here, I don't think I'd ever leave. [Si hubiera crecido aquí, no creo que lo hubiera dejado nunca]
PADME - (laughing) I doubt that. [(riendo) Lo dudo]
ANAKIN - No, really. When I started my training, I was very homesick and very lonely. This city and my Mom were the only pleasant things I had to think about... The problem was, the more I thought about my Mom, the worse I felt. But I would feel better if I thought about the palace - the way it shimmers in the sunlight - the way the air always smells of flowers... [No, en serio. Cuando empecé mi entrenamiento, echaba de menos mi hogar y me sentía solo. Esta ciudad y mi madre eran las dos únicas cosas agradables en las que pensaba… El problema era que cuanto mas pensaba en mi madre peor me encontraba. Pero me sentía mejor si pensaba en el palacio – la manera en que resplandece la luz del sol - la forma en que el aire siempre huele a flores…]
PADME - ..and the soft sound of the distant waterfalls. The first time I saw the Capital, I was very young... I'd never seen a waterfall before. I though they were so beautiful... I never dreamed one day I'd live in the palace. […y el suave sonido de las cataratas a lo lejos. La primera vez que vi la capital yo era muy pequeña… nunca había visto una catarata antes. Pensé que eran tan preciosas… nunca imaginé que un día viviría en este lugar]
ANAKIN - Well, tell me, did you dream of power and politics when you were a little girl? [Bueno, dime, ¿soñaste con el poder y la política cuando eras pequeña?]
PADME - (laughing) No! That was the last thing I thought of. But the more history I studied, the more I realised how much good politicians could do. After school, I became a Senatorial Advisor, with such a passion that, before I knew it, I was elected Queen. For the most part it was my conviction that reform was possible. I wasn't the youngest Queen ever elected, but now that I think back on it, I'm not sure I was old enough. I'm not sure I was ready. [(riendo) ¡No!. Esa era lo último en lo que pensé. Pero cuanta mas historia estudiaba, mas me daba cuenta de cuantas cosas pueden hacer los buenos políticos. Después de la escuela me convertí en Consejera del Senado, con tal pasión que antes que lo supiera fui elegida Reina. Para la mayoría fue mi condena que la reforma fuera posible. No fui la Reina elegida mas joven, pero ahora que lo pienso, no estoy segura de si fui lo suficientemente mayor. No estoy segura de que estuviera preparada]
ANAKIN - The people you served thought you did a good job. I heard they tried to amend the Constitution so you could stay in office. [Tu pueblo siempre ha aplaudido tu trabajo. Oí que intentaron reformar la Constitución para que siguieras en el cargo]
PADME - Popular rule is not democracy, Annie. It gives the people what they want, not what they need. And, truthfully, I was relieved when my two terms were up. So were my parents. They worried about me during the blockade and couldn't wait for it all to be over. Actually, I was hoping to have a family by now... My sisters have the most amazing, wonderful kids... but when the Queen asked me to serve as Senator, I couldn't refuse her. [El gobierno popular no es una democracia, Annie. Se le da al pueblo lo que quiere, no lo que necesita. Y, sinceramente, cuando terminé mis dos legislaturas me sentí aliviada. Mis padres también. Estuvieron preocupados durante el bloqueo y no veían el momento de que todo acabara. De hecho creía que iba a tener mi propia familia a mi edad... mi hermana tiene los niños mas increíbles y maravillosos… pero la Reina me pidió que la sirviera como Senadora, y no pude negarme.]
ANAKIN - I agree with her! I think the Republic needs you... I'm glad you chose to serve. I feel things are going to happen in our generation that will change the galaxy in profound ways. [¡Estoy de acuerdo con ella!. Creo que la República te necesita… Estoy encantado que hayas escogido servirla. Creo que van a pasar cosas en nuestra generación que cambiarán la galaxia de una manera profunda]
PADME - I think so too. [Yo también lo creo]
Escena 66 - Ext. Naboo lago refugio
| | |
| --- | --- |
| | |
Exterior Naboo Lago refugio - Terraza jardín
La primera escena romántica también ha sufrido cortes severos por parte de Lucas, dejándola solamente con algunas frases de menor importancia y sin profundidad con lo que gran parte de ese romanticismo se ha perdido.
En esta escena lo mas importante es ese beso prohibido entre Anakin y Padmé y los diálogos previos al mismo, con esa historia que ella le cuenta a él sobre cierto habitante de la isla que se ve a lo lejos en el lago que fabricaba vasos de cristal, y que es un modo de quitarse el nerviosismo que tiene ante la actitud y las miradas de Anakin.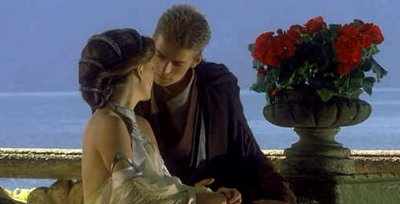 PADME - When I was in Level Three, we used to come here for school retreat. See that island? We used to swim there every day. I love the water. [Cuando estaba en el tercer curso, solíamos venir aquí de acampada con el colegio. ¿Ves aquella isla?. Solíamos nadar hasta allí todos los días. Me encanta el agua]
ANAKIN - I do too. I guess it comes from growing up on a desert planet. [A mi también. Supongo que será por haber crecido en un planeta desértico]
Padme becomes aware that ANAKIN is looking at her. [Padmé se da cuenta de que Anakin le está mirando]
PADME - ...We used to lie on the sand and let the sun dry us... and try to guess the names of the birds singing. […Solíamos tumbarnos en la arena y dejar que el sol nos secara…e intentar adivinar el nombre de los pájaros que cantaban]
ANAKIN - I don't like sand. It's coarse and rough and irritating, and it gets everywhere. Not like here. Here everything's soft... and smooth... [No me gusta la arena. Es seca, áspera e irritante, y se mete por todas partes. No como aquí. Aquí todo es suave…y sedoso…]
He touches her arm. PADME has become receptive to the way he looks at her but is nervous. [Toca su brazo. Padmé se vuelve receptiva en la manera en que le mira pero nerviosa]
PADME - There was a very old man who lived on the island. He used to make glass out of sand - and vases and necklaces out of the glass. They were magical. [Había un hombre muy mayor que vivía en esa isla. Solía fabricar cristales con arena – y vasos y collares de cristal. Eran maravillosos]
ANAKIN - (looks into her eyes) Everything here is magical. [(mirando a los ojos) Todo aquí es maravilloso]
PADME - You could look into the glass and see the water. The way it ripples and moves. It looked so real... but it wasn't. [Podías mirar dentro del cristal y ver el agua. El oleaje y el movimiento. Parecía tan real… pero no lo era]
ANAKIN - Sometimes, when you believe something to be real, it becomes real. [A veces, cuando crees que algo es real, se convierte en real]
They look into each other's eyes. He touches her chin. [Ambos se miran a los ojos. Él toca su barbilla]
PADME - I used to think if you looked too deeply into glass, you would lose yourself. [Solía pensar que si mirabas demasiado profundo dentro del cristal, te podías perder]
ANAKIN - I think it's true... [Creo que es cierto]
Anakin kisses Padme. She doesn't resist. She comes to her senses and pulls away. [Anakin y Padmé se besan. Ella no se resiste. Ella recupera el sentido común y se separa]
PADME - No, I shouldn't have done that. [No, no debería haber hecho eso]
ANAKIN - I'm sorry. When I'm around you, my mind is no longer my own. [Lo siento. Cuando estoy cerca de ti, me dejo llevar]
Escena 73 - Ext. Picnic en el prado
| | |
| --- | --- |
| | |
Exterior Naboo – Picnic en el prado
Es la última escena del picnic en el prado y precisamente ese final es el que ha sido suprimido, un final que era mas romántico que el montado por Lucas. El comienzo de la escena enlaza con el final de la anterior, en la cual, después de la conversación en el prado, Anakin decide que ya es hora de hacer reír a Padmé, para lo cual se pone a perseguir a un Shaak que estaba comiendo tan tranquilo, lo persigue en círculos mientras ella se ríe cada vez mas. En vista del éxito se sube encima del Shaak y así comienza esta escena.
The Shaak crosses in front of Padme with Anakin is riding it, facing the Shaak´s tail. Anakin attempts to stand on the galloping Shaak´s back But the Shaak bucks, and Anakin loses his balance and falls off. Padme laughs even harder. Anakin lies still. Concerned, Padme jumps up and runs to where Anakin is face down in the grass. [El Shaak cruza delante de Padmé con Anakin cabalgándolo. Anakin intenta montar al galope pero el Shaak se resiste y hace que Anakin pierda el equilibrio y caiga. Padmé se ríe con mas fuerza. Anakin sigue tendido en el suelo. Padmé se preocupa y se dirige a donde Anakin ha caído en la hierba]
PADME - Annie, Annie are you all right?. [Annie, Annie ¿estás bien?]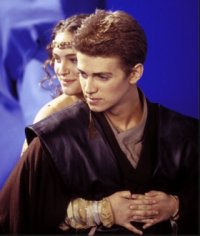 She turns him over. He is pulling a stupid face at her. She yelps in mock fury and takes a swing at him. He catches her arm. She struggles. They roll over in the grass, embracing, and looking into each other´s eyes. Suddenly, they become aware of the contact between them. They let go of each other quickly and sit up, looking away. Anakin stands up and holds out his hand to her. She take it. He pulls her up. And now they are easy together, not self-conscious any more. Padme scrambles up onto the Shaak behind Anakin. She puts her arms around his waist and leans against his back. Anakin digs his heels in. The Shaak starts forward, and they ride away. [Ella le gira. Él pone una cara tonta bromeando. Ella grita fingiendo estar furiosa y le sigue el juego. Él le coge el brazo, ella forcejea y juntos ruedan sobre la hierba abrazándose y mirándose fijamente a los ojos. De pronto se dan cuenta del contacto. Lo dejan y se sientan mirando a otra parte. Anakin se levanta y le da la mano a Padmé. Ella la coge y se levanta también. Y ahora se dan cuenta de lo fácil que es estar juntos sin sentirse incómodos mas. Padmé se sube al Shaak detrás de Anakin. Pone sus brazos alrededor de su cintura y se apoya sobre su espalda. Anakin le da con sus tacones al Shaak y este comienza a andar, se marchan cabalgando]
Escena 115 - Int. Sala en Geonosis
Interior Geonosis – Sala de Conferencias
Esta es una escena en la que el Conde Dooku y el resto de los líderes separatistas discuten la firma del tratado.
No es muy importante, pero se ha suprimido de ella algún personaje como Passel Argente, uno de los dos representantes de la Alianza Corporativa, que dice una frase. Del mismo modo en esta mesa se sienta un senador partidario del movimiento separatista Toonbuck Toora.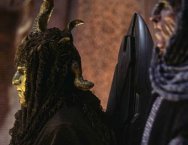 &nbsp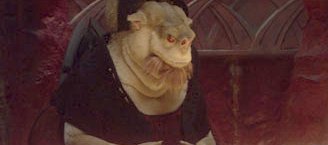 PASSEL ARGENTE - I am authorized by The Corporate Alliance to sign the treaty [Estoy autorizado por la Alianza Corporativa a firmar el tratado]
Escena 126 - Interior garaje granja Lars
| | |
| --- | --- |
| | |
Interior Tatooine Casa de los Lars – Garaje
Una de las escenas mas grandiosas e intensas de la película es precisamente esta, la confesión de Anakin a Padmé de la matanza Tusken en el garaje de la casa de los Lars. Lamentablemente también ha sufrido un corte en el diálogo de Padmé que cierra la secuencia, así como alguno intermedio. En dicho corte ella reacciona ante la brutal y salvaje confesión. Anakin confiesa que ha perdido el control, que no quiere odiar pero no puede perdonar, a lo que ella concluye que eso es un comportamiento muy humano, como todos los demás. Anakin cierra también con un arrepentimiento de lo que ha hecho.
Padme comes in with a tray of food. ANAKIN is standing at a workbench, repairing a part off the speeder bike. [Padmé aparece con una bandeja de comida. Anakin está en una mesa de trabajo, reparando una parte del speeder]
PADME - I brought you something. Are you hungry? [Te traigo algo. ¿Tienes hambre?]
Padme puts the tray down. [Padmé posa la bandeja]
ANAKIN - The shifter broke. Life seems so much simpler when you´re fixing things. I´m good at fixing things…always was. But I couldn´t (stop working, tears in his eyes). Why did she have to die?. Why couldn´t I save her?. I know I could have!. [El cambio está roto. La vida parece mucho mas simple cuando arreglas cosas. Soy bueno arreglando cosas… siempre lo he sido. Pero no he podido (para de trabajar, lágrimas en sus ojos) ¿Por qué ha tenido que morir?. ¿Por qué no he podido salvarla?. ¡Se que hubiera podido!]
PADME - Sometimes there are things no one can fix. You´re not all powerful, Annie. [A veces hay cosas que nadie puede arreglar. No eres todo poderoso Annie]
Anakin turns and walk away from the bench. [Anakin se gira y se separa de la mesa]
ANAKIN - (Angry) I should be. Someday I will be…I will the most powerful Jedi ever!. I promise you, I will even learn to stop people from dying. [(furioso) Pues debería. Algún día lo seré… ¡seré el Jedi mas poderoso que exista!. Te lo prometo. Impediré que la gente sufra]
PADME - Anakin… [Anakin…]
ANAKIN - (furious) It´s all Obi-Wan´s fault. He´s jealous!. He knows I´m already more powerful than he is. He´s holding me back!. [(furioso) Todo es culpa de Obi-Wan. ¡Esta celoso!. Sabe que ya soy mas poderoso que él. ¡No me deja avanzar!]
Anakin hurls the wrench across the garage. It CLATTERS to the floor. He looks at his trembling hands. PADME stares at him, shocked. [Anakin lanza la llave inglesa al otro lado del garaje. Golpea contra el suelo. Se mira sus manos temblorosas. Padmé esta junto a él, sorprendida]
PADME - Annie, what´s wrong?. [Annie, ¿Qué te pasa?]
ANAKIN - I…I killed them. I killed them all. They´re dead, every single one of them… [Yo… los maté. Los mate a todos. Están todos muertos, cada uno de ellos…]
Anakin focuses on her like someone returning from far away. [Anakin la mira fijamente, como si fuera alguien que vuelve de un lugar muy lejano]
ANAKIN - Not just the men, but the women and the children too. They´re like animals, and I slaughtered them like animals…I hate them!. [No solo los hombres, las mujeres y los niños también. Son como animales, y los he aniquilado como animales… ¡los odio!]
There is a silence for a moment, then ANAKIN breaks down, sobbing. PADME takes him into her arms. [Hay un momento de silencio, luego Anakin se viene abajo, llorando. Padmé le coge en sus brazos]
ANAKIN - Why do I hate them?. I didn´t…I couldn´t…I couldn´t control myself. I…I don´t want to hate them…but I just can´t forgive them. [¿Por qué les odio?. No hize… No puedo… No puedo controlarme. No… No quiero odiarles… pero tampoco puedo perdonarles.]
PADME - To be angry is to be human. [Estar enfadado es ser humano]
ANAKIN - To control your angry is to be a Jedi. [Controlar la ira es ser un Jedi]
PADME - Sssshhh… you´re human. [Sssshhh… eres humano]
ANAKIN - No, I´m a Jedi. I know I´m better than this. I´m sorry, I´m so sorry!. [No, soy un Jedi. Sé que soy mejor que esto. ¡Lo siento, lo lamento tanto!]
PADME - You´re like everyone else… [Eres como cualquier otro…]
Padme rocks him, and ANAKIN weeps. [Padmé le consuela, y Anakin llora]
Escena 137 - Int. Despacho canciller
| | |
| --- | --- |
| | |
Interior Coruscant – Despacho del Canciller
Se trata de una escena con un aire muy político, se produce durante y después del mensaje de Obi-Wan desde Geonosis en el cual informa de la situación. Resulta curioso como se han suprimido diálogos de Yoda muy interesantes sobre la disponibilidad de los Jedi y como han borrado de un plumazo la mitad de las líneas de diálogo del personaje de Bail Organa, algunas de las cuales incluso aparecían en los trailers de la película.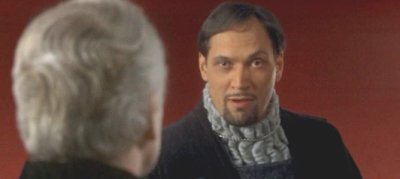 Jedi (Yoda, Mace Windu and Ki-Adi-Mundi) and Senators (Bail Organa, Ask Aak and Jar Jar) along with Palpatine and Mas Amedda discuss Obo Wan´s message with growing concern. [Yoda, Mace Windu, Ki-Adi-Mundi y los senadores Bail Organa, Ask Aak y Jar Jar junto con Palpatine y Mas Amedda comentan el mensaje de Obi-Wan con una creciente preocupación]
BAIL ORGANA -The Commerce Guilds are preparing for war... there can be no doubt of that. [Los Gremios de Comercio se están preparando para la guerra… no cabe la menor duda]
PALPATINE - Count Dooku must have made a treaty with them. [El Conde Dooku debe de haber firmado un tratado con ellos]
BAIL ORGANA - We must stop them before they´re ready. [Debemos detenerles antes de que estén preparados]
JAR JAR - Excueeze me, yousa honorable Supreme Chancelor, Sir. Maybe dissen Jedi stoppen the rebel army. [Perdón, tusa honorable Canciller Supremo, Señor. Tal vez dissen Jedi paren ejercito rebelde]
PALPATINE - Master Yoda, how many Jedi are available to go to Geonosis?. [Maestro Yoda, ¿Cuántos Jedi están disponibles para ir a Geonosis?]
YODA - Throughout the galaxy, thousands of Jedi there are. To send on special mission, only two hundred are available. [En toda la galaxia, miles de Jedi hay. Para una misión especial, solo 200 están disponibles]
BAIL ORGANA - With all due respect for the Jedi Order, that doesn´t sound like enough. [Con todo el respeto hacia la Orden Jedi, me suena a que no son suficientes]
YODA - Through negotiation the Jedi maintains peace. To start a war we do not intent. [A través de las negociaciones un Jedi mantiene la paz. Empezar una guerra no intentamos]
SENATOR ASK AAK - The debate is over, we need that clone army now!. [El debate se ha terminado, necesitamos ese ejercito clon ahora]
BAIL ORGANA - Unfortunately, the debate is not over. The Senate will never be able to approve the use of that army before the separatists attack. [Desafortunadamente, el debate no ha concluido. El Senado nunca será capaz de aprobar el uso de ese ejercito antes que los separatistas ataquen]
MAS AMEDDA - This is a crisis! The Senate must vote the Chancellor emergency powers!, he could then approve the use of the clones. [¡Esto es una crisis!. ¡El Senado debe conceder poderes de emergencia al Canciller!, podría entonces aprobar el uso de los clones]
PALPATINE - But what Senator would have the courage to propose such a radical amendment. [Pero que Senador tendría el valor de proponer una enmienda tan radical]
MAS AMEDDA - If only Senator Amidala were here. [Si la Senadora Amidala estuviera aquí]
Jar Jar steps forward from the back of the group. [Jar Jar da un paso al frente]
JAR JAR - Mesa mosto Supreme Chancelor…mesa gusto pallos. Mesa proud to proposing the motion to give yousa Honor emergency powers. [Misa mosto Canciller Supremo… misa gusto pallos. Misa orgulloso de proponer la moción para dar a tusa poderes de emergencia.]
Escena 151 - Interior Tunel ejecución
| | |
| --- | --- |
| | |
Interior Geonosis - Túnel de ejecución a la arena
Esta es la otra gran escena romántica de la película, aunque en este caso mucho mas dramática por las circunstancias que van a vivir Padmé y Anakin.
Es un momento bastante delicado para la senadora de Naboo que en vista de que ya no parece haber salida y después de cierta tortura psicológica por parte de Dooku, descubre todos sus sentimientos reprimidos hacia Anakin. Dicho juramento de amor es algo mas largo que el visto en el cine, se han suprimido algunos diálogos de Padmé con el peligro que ello conlleva de destrozar una escena tan intensa como esta. Puede parecer que solo sea una frase pequeña de Padmé pero no lo es, ya que en esa frase están resumidas muchas cosas, primero confusión, luego falta de respuestas, y por último un sentimiento que la desborda por completo y por el cual decide lanzarse de lleno sin importarle las consecuencias.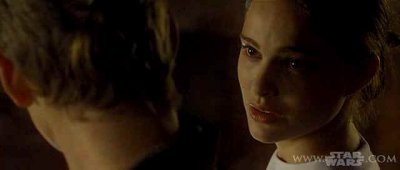 ANAKIN - Don't be afraid. [No tengas miedo]
PADME - I'm not afraid to die. I've been dying a little bit each day since you came back into my life. [No tengo miedo de morir. Llevo muriéndome poco a poco desde el día en que volviste a mi vida]
ANAKIN - What are you talking about? [¿De que estás hablando?]
PADME - I love you. [Te quiero]
ANAKIN - You love me?! I thought we decided not to fall in love. That we would be forced to live a lie. That it would destroy our lives... [¿Me quieres? ¡Pensé que habíamos decidido no enamorarnos. Que estaríamos forzados a vivir una mentira. Que destruiría nuestras vidas…!]
PADME - I think our lives are about to be destroyed anyway. My love for you is a puzzle, Annie, for which I have no answers. I can't control it... and now I don't care. I truly, deeply love you, and before we die I want you to know. [Creo que nuestras vidas van a ser destruidas de todas formas. Mi amor por ti es un misterio Annie, para el cual no tengo respuestas. No puedo controlarlo… y ahora no me importa. Te quiero verdadera y profundamente, y antes de que muramos quiero que lo sepas]
Padme leans toward ANAKIN. By straining hard, it is just possible for their lips to meet. They kiss. [Padmé se acerca a Anakin. Es posible que se rocen sus labios. Se besan]
Escena 154 - Exterior ejecución en la arena
Exterior Geonosis – Ejecución en la arena
Se trata de la gran batalla en la arena del coliseo geonosiano, en concreto cierta escena referente al duelo entre Jango Fett y Mace Windu.
Ese enfrentamiento es mas largo de lo que se ha visto en la película y se rodaron escenas en las que Mace, que pierde el sable láser tras el choque con el Reek, lo intenta recuperar con posterioridad pero queda debajo de una de las patas del monstruo. Al otro lado se encuentra Jango tomando posiciones para disparar. El Reek mira a uno y a otro muy enfadado pero Mace usa su poder para calmarlo y lo consigue, pero una explosión hace que Mace la esquive dando un salto por el aire. El Reek se vuelve a enfadar y se mueve liberando el sable láser, Jango se tira a por él, pero Mace lo coge antes usando la fuerza. Lo que viene después ya lo conocemos.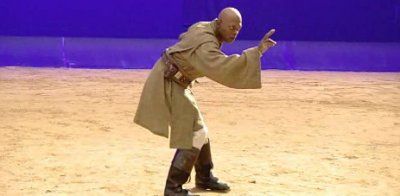 Escena 170 - Interior Hangar secreto
Interior Geonosis – Hangar secreto
Esta es una de las última escenas de la película y en ella se puede observar como Dooku también controla la lucha con dos sables láser, el suyo propio mas el azul de Anakin.
La secuencia en cuestión se produce en su enfrentamiento con Yoda en el Hangar secreto de Geonosis y viene a demostrar, mucho mas si cabe, el poderío que tiene el gran maestro verde ya que en una hábil maniobra de agilidad consigue que Dooku pierda uno de ellos.
Si la escena que se montó finalmente ya era sensacional de por si, el hecho de comprobar como el Conde lucha con dos sables frente al único de Yoda y como este con sus movimientos consigue doblegarle, resulta tremendamente espectacular.
Las escenas como se pueden apreciar se rodaron e incluso recibieron el retoque oportuno de postproducción (ver fotos) pero al final se desecharon por alguna causa que solo Lucas y su compañero en las labores de montaje Ben Burtt saben.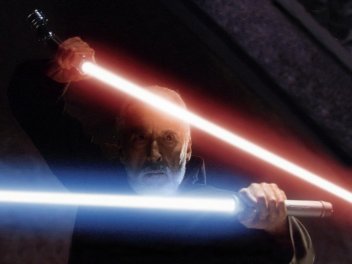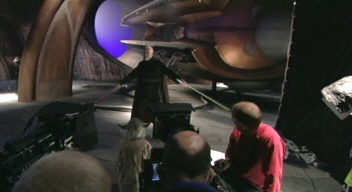 Escena 178 - Exterior Naboo Lago retiro
| | |
| --- | --- |
| | |
Exterior Naboo – Jardín Lago retiro, puesta de sol
Se trata de una escena que solo se ha podido ver en la proyección digital de la película.
Según cuenta el productor Rick McCallum no se insertó en el montaje en 35 mm debido a la falta de tiempo. Es la escena de la boda en los jardines del Lago bajo una puesta de sol y en ella se ve como Padmé y Anakin se cogen de la mano, pero hay un dato muy interesante y es el hecho de que ella coge la mano mecánica de Anakin en señal de afecto. Todo esto le da un toque mas oscuro si cabe a esa boda, no es todo lo feliz que parece, se empieza a ver el abismo, la perdida de humanidad de Anakin, el comienzo de la máquina, el principio del fin, no significa lo mismo ver la nueva mano, que presenciar como Padmé lo acepta a pesar de que algo en él ha cambiado, no solamente por la mano, Darth Vader empieza a tomar forma en el interior de Anakin.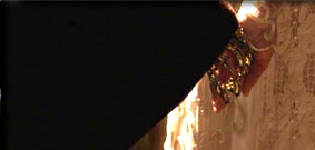 [ Menú Artículos ]


© S I T H N E T



Articulo creado por Runciter / Supervisión: Lady Mon / Maquetación: Coronel Kurtz
Prohibida la reproducción total o parcial sin el consentimiento de los autores.



Para cualquier duda, sugerencia o comentario sobre esta sección
contacta con el autor usando el e-maul ;-)